Welcome to the website of Rebel Diving Curaçao, your only complete SSI dedicated diving center on Curaçao!
Rebel Diving Curaçao is a professional and personalized diving center, owned and run by the Rebel herself. With all the passion and all the excellence, she takes you on your great diving adventure in the Caribbean Ocean at Curaçao.
With passion, every dive and every course has a personal touch to the wishes and level of the diver. This results in private diving in small groups and courses on the whole Southern part of the island. No fixed schedules, flexible where you want to dive and when you want to dive. Rebel is a local diver so you will be taken to the most amazing places where all the other diving centers hardly go. This results for you in diving at amazing reefs and enjoying amazing life.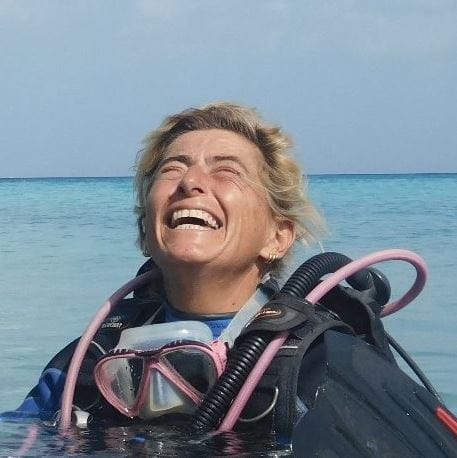 Who is Rebel Diving Curacao?
Hello all!

My name is Daan Rijnenberg, the Rebel herself and the proud owner of this amazing diving center. My passion is all about diving in our amazing oceans and seas. And I can call myself a lucky Rebel to be able to turn my passion into my job. Most of the time you find me under the surface. Because that is where an instructor belongs!
With excellence I take you diving to amazing spots or teach you how to dive. Not just the average tourist spots but also to all the amazing spots Curaçao has to offer. Concerning the dive education you will be able to start diving or improve yourselves with follow up education. It is also possible to become a dive professional with Rebel.

Rebel Diving is all about diving and nothing else but diving. With many many years of diving, many many years of teaching courses and guiding dives and good knowledge of maintenance of equipment you will have all you need for your diving vacation on Curacao. Whether you just want to get acquainted with diving or want to become a diving professional.

Being service orientated, delivering good and trustful equipment and guide you all around, I am glad to be of service to you for your care-free diving vacation on Curaçao.
Read more
Read less
Want something special?
Rebel can make you a personal Curaçao diving package!
Partner accommodations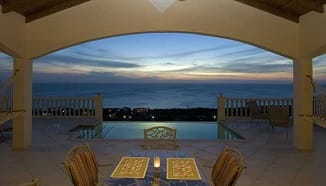 Sea Side Curacao
Seaside Curacao offers short and long term rentals for you to enjoy pure Caribbean relaxation! Just 20 minutes for HATO airport the Seaside Curacao, neighborhood homes and lux villas include access to newly upgraded and renovated dive facilities, a great restaurant and beach within the resort!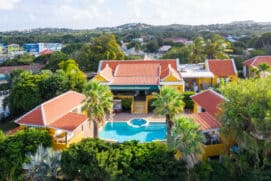 Landhuis Bona Vista
Do you want to enjoy luxury and relax during your vacation in Curaçao? Then you have come to the right place at Bona Vista Boutique Hotel. It is a small resort with 6 apartments for 2 or 4 people. The well-known Mambo Beach is a 6-minute drive away and the center of Willemstad is also a 10-minute drive away. The resort is located in the Mahaai district and is slightly higher, so there is always a wonderful wind blowing. The resort also has a large swimming pool with tropical garden.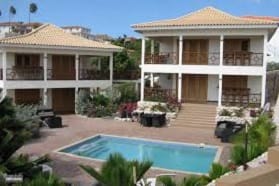 Gosa Bunita
Curacao is located in the southern part of the Caribbean Sea. Together with Aruba and Bonaire, the islands are known as the Leeward Islands. Curacao is the largest island of the ABC islands with a total area of 444 square kilometers. With a tropical climate all year round, rich culture, varied flora and fauna and many activities, Curacao is a popular holiday destination for young and old.
Dive tips from Rebel. Get inspired!
Location of Rebel Diving Curaçao
"WATER AND AIR, THE TWO ESSENTIAL FLUIDS ON WHICH ALL LIFE DEPENDS, HAVE BECOME GLOBAL GARBAGE CANS." — JACQUES COUSTEAU
SSI and Rebel Diving Curacao want everyone to be aware of the environmental problems our oceans are suffering day by day. The SSI Blue Oceans movement supports the conservation and sustainable use of aquatic environments, including oceans, seas, coasts, and waterways and their magnificent diversity of plant and animal species. See this Youtube movie for more information about our mission.